ABOUT MINSHAR
Background
Minshar School of Art was established in 2005.
It is a high standard educational Art institution that provides professional and artistic studies in the fields of visual art, literature and writing. Our School departments are: Film, Photography, Animation, Arts, Visual Communication and Writing.
The College Location: in the heart of the cultural capital of Israel: Tel Aviv-Jaffa.
Minshar is more than an Art School – it's a cultural center.
Over 450 students are enrolled, aiming to be a substantial force among active professional artists in Israel and worldwide. Students obtain knowledge and hands-on experience from the finest artists and leading professionals, providing proficient expertise while respecting the freedom of creativity and expression.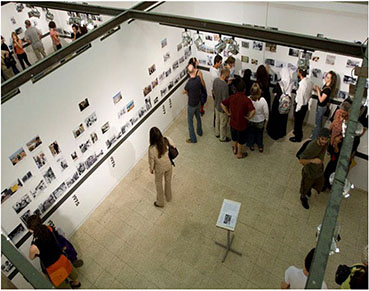 Minshar was founded by professional artists, experienced in both education and business, who joined together with the common goal of training a new generation of artists and professionals to excel in the various mediums of Art and Film (6 Departments) – all under one roof!
The Spirit
Education for creativity focuses on the values of expression, choice, responsibility, respect, cooperation and involvement.
Creative art requires imagination, judgment, analysis and classification, truth, abstraction, faith, and practice. Original thought and expression are key elements that lead the human thought to discoveries, inventions and development of new technologies.
Creative thought values contribute to all areas of knowledge and are not confined only to art studies. A system aspiring to adapt to an updated world, while sharing universal knowledge on a daily basis – must essentially lean on the inherent values of the artistic creativity and thought process.
At Minshar we encourage the exploration of new artistic languages, interdisciplinary collaboration between creative mediums, cooperative art aimed at social, public and professional engagement, as well as more internal, personal art seeking a dialogue with the public audience.
Our perception is to design a new model of a school, where ideas, creativity and even professional requirements – emerge, many times, from the foundation, while our role as educators is to provide professional knowledge, shorten the way, offer the our expert perspective, but not direct towards a single opinion. We produce a center whose core activity and environment lay upon professionalism and an open mind – a quality framework which aims to nurture sensitive, aware and professional artists, both skillful & knowledgeable young men and women, whom shall impact the core of Israeli Art and Culture; An integrated, challenged and involved generation, thirsty for civic and moral action. Our reality today, raises the importance of our young generation's education – to be a top priority.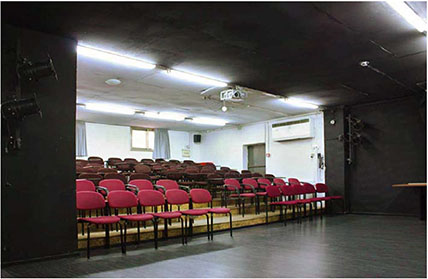 Minshar – Our Home
The 6 story rented building, where we are housed now, is mostly divided into small spaces being conducted as small group workshops serving both personal and intimate creative studies, as well as classrooms in which opinions and impressions are exchanged.
There are also: lecture halls, photography and art workshops, computer rooms, a darkroom with adjacent professional photo printers, film and animation studios, editing suites, a large gallery, a screening auditorium, and a cafeteria.
Minshar also functions as a cultural center for our community – as we have an active gallery for contemporary art, host exhibitions, screen experimental, documentary, animation and narrative feature films, as well as lectures, conferences and discussion evenings, events – even performances of chamber music. The cultural center also houses a modest library, a film archive, a café and a dynamic courtyard.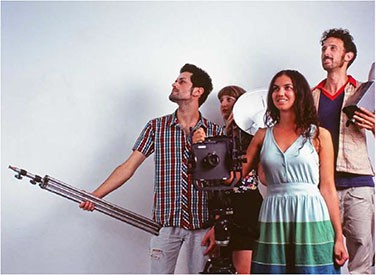 Our Students
Minshar is located in the south-center of Tel Aviv, and is designed for young people who want to become profession artists, combining creativity with their affinitive art medium. Most of our students are in their 20's and early 30's. They come from all walks of life and from all over the country. The Student body is diverse – from excellent, talented standouts – to underprivileged young people lacking formal secondary education, and even those with learning disabilities. There are young men and women from all sectors of Israeli society: from different communities, diverse religions, from central Israel as well as the periphery, many from lower socio-economic class, and even refugees.
Studies at Minshar are based, first of all, the professional work with the faculty teachers, but are enhanced by the presence of production & technical support crew, and by that of the heads of departments – all whom are here most of the time to support and encourage, assist and a listen. Each department has a professional equipment center, as the equipment serves the student for their free use on productions & study assignments.
The Curriculum
Full studies in all departments are based on a four year program, which consists of 28 year-long courses. During the fourth year students are obligated to work on their final graduation project, mentored by senior artists & lecturers – both in discussion groups and personal guidance.
The curriculum is divided into three principle categories:
A. Technical and professional courses (equipment, software, technique etc.).
B. Exercise Workshops, production, discussion and critical review (artistic language development, understanding and mastering the relevant artistic medium),
C. Theoretical & Practical knowledge – the origins & evolvement of the chosen discipline.
In addition, Minshar holds interdisciplinary courses, special workshops, master-classes, and joint multi-department projects.
During their studies the students gain practical experience in a variety of styles, and acquire professional tools for dealing with the complex Israeli relaity – both in the personal and social-public strata.
• Full Curriculum – equivalent to academic standards worldwide. Graduates of 4 year programs receive professional Diploma – A Minshar Graduate in the chosen medium.
The Diploma is recognized by the Ministry of Culture and by all vocational institutions.
• College Degree – most of our Full Curriculum students study Open University theory classes (a joint cooperation) and at the end of four years also earn a B.A.
• Evening courses – Allows full-time working people, or graduates of different studies who cannot commit to the Full Curriculum studies – the chance to study various art courses from our program in the evening.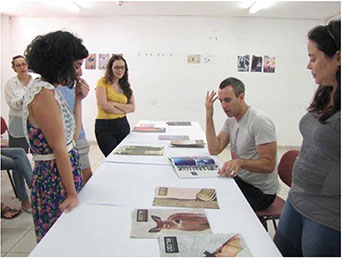 Our Departments
Film Cinema – Students learn screenwriting for fiction, documentary screenwriting, comic writing, TV series and new formats. Both narrative and documentary Directing courses are taught, as each year the film length and complexity rises. Students also study cinematography courses, conceptual and technical editing, sound recording & editing, acting for film, film history, film styles and movements, and cinematic expression.
Animation – Students begin classic animation; drawing, illustration, sculpting, storyboard and Premier editing software. They gradually move on to 3-D Maya animation software and learn it both as an advanced technical and directing tool. Also offered : after effects software, Stop-motion, cinematic foundations, animation screenwriting and more.
Visual Communication – Students learn illustrative techniques, Typography, Print design, interactive design, advertising, branding, broadcast, magazine and book design, packaging design, and various software – Photoshop, Illustrator, Flash, Muse, After Effects, InDesign, and more.
Photography – Students study Photographic and Visual language, practical indoor/outdoor photography, Pinhole cameras and special techniques, beginner/advanced Studio, Gastronomical and Architectural Photography, Fashion and Style photography, social documentary photography, media and journalistic photography, beginner/advanced Photoshop, Black and White processing, video-art, photographic history and more.
Fine Art – Students study drawing, painting, sculpting with soft materials for starters, illustration, photography, advanced sculpting with hard materials, computer 3D sculpting, 4 years of painting with oil paints and acrylic, video-art, print, installation art, performance art, courses in artistic language and means of expression, and comprehensive art-history classes.
Writing – Students study first-year courses of prose, poetry, journalism and screenwriting, along with ongoing courses in grammar, vocabulary metaphoric language enhancement. Advanced courses include writing novels, poetry, academic writing, playwriting, translation and more. And of course – the literature history classes focusing on genres and countries of origin – with an emphasis on local literature.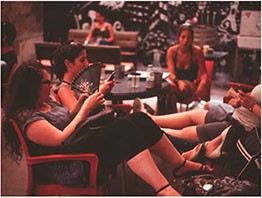 Minshar is a non-profit, public benefit company (PBC).
All Minshar activities are a considered a contribution to our community and society.
Minshar is supported by the Tel Aviv municipality and the Ministry of Culture and is supervised by the NGO Registrar.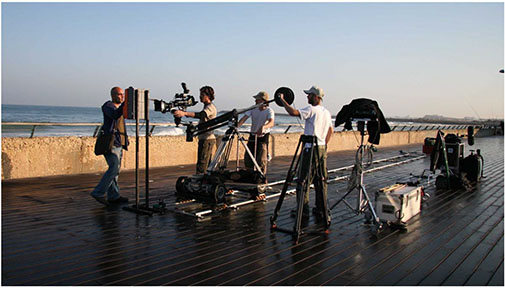 Our achievements
Within a few years we were able to position 'Minshar' as one of three top-tier art schools in Film studies, photography and art, visual communication, animation, and the only dept. in Israel for writing – both prose and poetry.
Graduation films in recent years have been screened awarded at major festival worldwide including prestigious venues such as Cannes Film Festival, San Sebastian, Venice, Sundance, Berlin, and locally in Jerusalem, Haifa and Tel Aviv Student Film Festivals.
Photography and Art graduates won first prizes in the Sony competition in London, and Tel Aviv based "fresh paint", were chosen for Aperture "regeneration" program , twice won the Tel Aviv Museum Kustitiner award, and have had solo exhibitions at important galleries.
The Art department won the Tel Aviv Museum schools contest etc.
Visual Communication graduates have been constantly illustrating the leading newspapers in Israel, and even the New York Times!… They have illustrated children's books by the best local authors. Animation graduates have won Asifa animation festival competitions for clips, most of them are employed at the major design and interactive offices in the country, and some already have successful independent design studios.
A Writing dept. graduate has just won the Zikit publishing prize – to have their first novel published, while others have published fiction and poetry books under the auspice of the Israeli writers association, won the online competition for rewriting biblical stories; one of our graduates hosts a program and podcast about literature on IDF Radio, and year they get rave reviews for the department's anthology of prose and poetry.
The gallery
Set in a large, beautiful space in the heart of the school, the gallery showcases exhibitions for professional well known artists and curators.
Situated on the street level, the 130 SQM gallery offers high standards of presentation.
In addition to the gallery, the ground floor contains an Auditorium and Cafeteria, as well as a wide adjacent corridor – usually reserved for student exhibitions.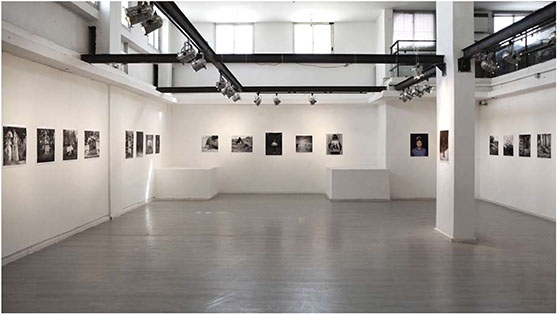 When hosting large exhibitions, classes from upper levels can also be available for presentation. This happens during the summer break, from July to September.
A selection of exhibitions, from the last three years: